World Music Festival Bratislava
A unique music festival in the historic city centre of Bratislava
World music festival Bratislava is an international festival dedicated to world music, folk music, ethnojazz and fusions with other genres. The goal of the festival is to offer a varied program and bring an event that will enliven the historic city center. Our festival is colorful and multifaceted. We support Slovak bands, we give them space at showcase shows and we also present top foreign world music projects.
In addition to concerts, the program also includes dance performances, workshops, films and other accompanying events. An international conference, which is part of the festival, to which important foreign professionals and delegates are invited every year and is intended for the professional public and musicians. Its task is to bring the Slovak music scene closer to professionals from abroad and also to network, share knowledge and integrate the Slovak scene into the international world music community. The purpose of the event is to create a space for dialogue between cultures, respect for one's own tradition and communication between people through art. Together with the musicians and the audience, we stand for tolerance, understanding, openness and respect. Since 2017, our festival has been a member of the Forum of worldwide music festivals (FWMF). In the prestigious evaluation of world music and ethno festivals in 2018 according to the collaborators of the Transglobal world music chart, the World Music Festival Bratislava became the winner in the categories "New Festival" and "Small/Medium Festival".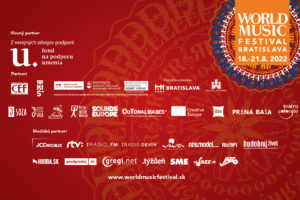 Tomorrow, August 20, at 10:00 a.m., the International Conference will take place in Teatro Colorato
World Music Festival is a city festival and it takes place in the historical centre of Bratislava
We cordially invite you to the upcoming concerts of the spring part of the World Music Festival Bratislava!
Sorry, we couldn't find any posts. Please try a different search.
Information for bands & musicians who are interested in applying for the next edition of WMFB:
If you are interested in playing at the next edition of WMFB, please apply by writing an e-mail to pr@worldmusicfestival.sk with a subject in form: "WMFBA_ARTIST_APPLICATION_(NAME OF THE ARTIST)"
Venues - World music festival 2023
 Koncertná sieň
Klarisky
Klariská 1,
Bratislava
Slovensko
 Teatro Colorato
Františkánske
námestie 2,
Bratislava
Slovensko
Záhrada v Beigli
Hotel & Garden

Baštová 4,
Bratislava
Slovensko
Nádvorie
Zichyho paláca
Ventúrska 9,
Bratislava
Slovensko